In images, in picturesFrom the 1970s to the late 2010s, Tom Wood photographed County Mayo, Ireland, where he spent his childhood. Gathered in a book, "Irish Work", his images show, with humor, a rural and popular country.
Photographer Tom Wood was born in County Mayo in the west of Ireland in 1951. His mother was Catholic, his father Protestant, they moved to England when he was a teenager, due to the prevailing religious intolerance – we were at the dawn of the "Troubles", that thirty-year civil war (1968-1998) which tore apart Protestant and Catholic communities in Northern Ireland.
From 1972, Tom Wood, who had dreamed of being a painter, let go of his brushes and became known for his chronic photo chronicles of the daily life of the British in the north-west of England, including Liverpool – and in particular his photographs of alcoholic nights at the Chelsea Reach nightclub, or the monotonous bus routes of this metropolis, which he took in all directions for twenty years.
But Tom Wood remains deeply attached to Ireland and the County Mayo where he was born. « I went back there every year, only the coronavirus prevented me, last year », explains the photographer reached by phone from North Wales where he now lives.
Children's bouilles, funfair, agricultural fair …
Published last month, his book Irish Work (RRB Photobooks editions) presents the result of fifty years of photography at the places of his childhood, in Mayo, between Mount Nephin (the highest mountain in Ireland, which rises to 806 meters), Lough Conn (a lake) at its feet, the countryside and the surrounding villages. Fairgrounds, cows grazing in landscapes saturated with greenery, soggy exteriors, abandoned cottages, photographs of families and children's faces, in color or in black and white …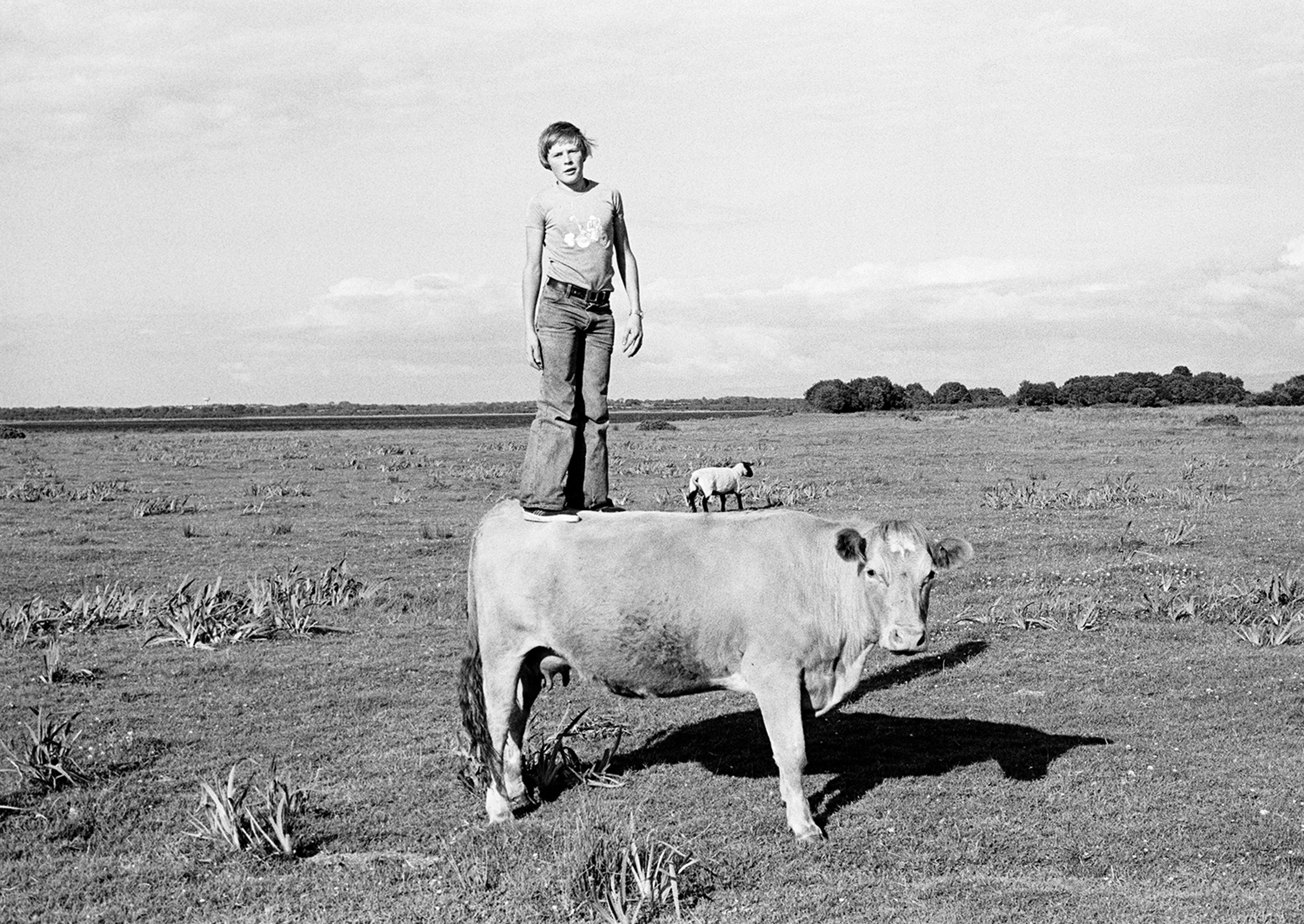 The unfolding is not chronological and blurs the lines between the past and the present, the 1970s and the end of the 2010s. Tom Wood worked at length on the sequencing of his book – 284 pages -, with Pádraig Timoney, a visual artist , also of Irish descent. "We carefully studied the composition of the book, I wanted a sensory and poetic journey, not chronological or narrative", explains Tom Wood.
Read also
Article reserved for our subscribers

At Paris Photo, the images go to another dimension
However, each image tells a very personal story: moments with family, between cousins, afternoons at the agricultural fair, children's games. But without sentimentality or nostalgia, and often with a lot of humor. "I tried to strike a balance between bad and sunny photos, gray and color. "
The big story
The succession of photos shows a still very rural Ireland – cows, horses, tractors, meadows, hedges dotted with fuchsias and, from time to time, the sea. "I don't have a driving license, I photograph my surroundings, what I can reach without a car, so not necessarily the most spectacular places. It gives a different kind of photography, with perhaps more attention to what is close to me ", details Tom Wood.
You have 18.58% of this article left to read. The rest is for subscribers only.
We want to thank the writer of this post for this remarkable web content

"I don't have a driving license, I photograph my surroundings": the Irish walk by Tom Wood